Puppy Page
DUE TO THE OVERWHELMING DEMAND: UNTIL FURTHER NOTICE, WE WILL NOT BE FIELDING NEW REQUESTS FOR PUPPIES!
Puppies…we love puppies! Here at Nitro however, we do not mass-produce them. We take particular pride in breeding only one to two top quality litters a year. This gives us the puppy "fix" we need without sacrificing quality. Due to high demand, we usually have approximately a six-month waiting list for our litters. Puppies are sold on a first come, first serve basis, in the order in which we receive your deposit. If you are interested in purchasing a puppy, please email us for details to assure that you don't miss out on your opportunity to be another satisfied Nitro Golden Retriever owner. Please understand that I quite often get several puppy inquiry emails daily. Giving timely replies while balancing a full-time job can sometimes prove to be difficult. I tend to give preference to folks who write thoughtful, sincere, and heartfelt emails. It tells me quite a bit about a potential future home. After all, these puppies are my family!
To keep quality at it's peak, we require full clearances on all breeding prospects before ever considering breeding. All hips and elbows are certified by OFA; a Board Certified Cardiologist certifies hearts; and a Board Certified Ophthalmologist certifies all eyes annually. Breeding stock is checked for Brucelosis prior to any breeding, and only bred to dogs duly certified.
We fully guarantee all our puppies to be healthy, happy, loving companions. We want nothing but satisfied customers here at Nitro, consequently, we provide 24 hour "tech support" to every buyer for the life of their dog! Why not take the time to look at what some of our customers have to say about their Nitro puppies.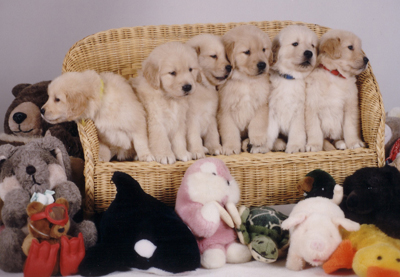 Hi Mary!

Glad to hear from you. We were getting ready to update you on Trever's progress. He is doing wonderful! He still attempts to climb into my lap, and his favorite position is on his back......I swear that is from his hand feeding days.....he even sleeps on his back with his paws in the air. He is gaining muscles and starting to fill out, including getting his "big boy" fur coat!!! Keeping to your recommended weight recommendations, his hindquarters are still narrow immediately past his rib cage, and our vet confirms that his hips are solid.

Tom and I are having such a blast with Trev. Every night, we are on the floor giving him lots of play time and tummy rubs........spoiled????.....nahhhh, not our little boy!

You should see Trever in his puppy class! Everyone knows Trever! He has more people come up to him to pet him. And they all comment on his soft fur. He is a character. At the moment, he has one of his toys on my lap and is chewing away (I'm sure it's to get my attention). So if there are spelling typos, blame Trev, it's tough to hit the right keys when his head keeps bumping my arms!!!! hahahaha

So, Mary, if you are getting the message that I am just plum in love with this little guy, I'd say that's right. He has become my best buddy (sorry, Tom!). He even loves to go for walks now. In fact, if I do try to sneak outdoors to take my morning walk, he stands at the door and cries!!! He just love to be with me. And I just love having him with me. Oh, and if you haven't guessed already, Trev is probably a "momma's boy!!!! He knows now: sit/stay; down/stay; sit/wait; heel (sort of); come (to a whistle and never to the word!); heel return (we're working on it). He has no fear of stairs, noises, heights, and he loves people (no surprise!).

Okay, I think I gave you a "nutshell" of Trev. We remain crazy in love with him and Tom has been heard to ask Trev if he would like a little brother in a year or 2!!!!!!!

See Ya!
Cindy, Tom, and Trever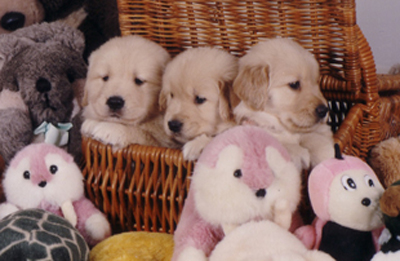 Mary, It's great to hear from you. We are very excited to hear that Merlin's (that's his name) family is so successful and living enriching lives. Merlin appears to be a classic underachiever and has only striven to be the best family dog of all time!!! But he has successfully accomplished that. He is sweet, kind, and still full of energy like a puppy. Ritilin seems to work to calm him down. (Only joking!!) Our 2 son's Stephen (11) and Shane (5) can never get enough of Merlin. Merlin has plenty of room to roam since we moved west of Ft. Lauderdale to an acre community two years ago.

Life is never boring when Merlin is with us. We are constantly stopped by people and asked if they can meet Merlin. Many say that he is the most beautiful Golden that they have ever seen. On several occasions we have been approached by people asking if we would be willing to breed him. My answer is always, "Even if he could, no." Other than being home Merlin's favorite place is (believe it or not) the Vet. He is the king of the Hollywood Animal Hospital, known and loved by every employee. Last month someone stopped by the house and said they saw our dog as they drove by. The women said we know your dog, that's Merlin. They work at the animal hospital and when they saw him they had to stop to say hello.

I will try to scan some pictures to send to you next week. We truly feel blessed that you brought Merlin into our lives.

With deepest gratitude,
Bob Matthews